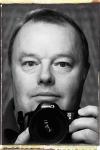 Norman Peters
Canberra, Australia
norm56@internode.on.net
---
Norman Peters is a freelance IT consultant, who has had a passion for photography for over 30 years.
"I believe that the ability to show what the world
really
looks like through my eyes to another person through immersive imaging represents a quantum raising of the bar of the value of photography, especially now that photographs have escaped from galleries. The transition to accessable digital imaging technology and the internet for all is accelerating around the world. Film might not be dead just yet, but it's breathing its last."
He lives in Canberra with his wife and daughter.