Aboriginal Tent Embassy, Parliamentary Triangle
Canberra, Australia
March 21, 2006, 5.45pm (UTC 0645)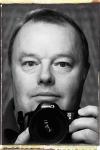 Loading panorama viewer ...
Configuring ...
© 2006 Norman Peters, All Rights Reserved.
Equipment
Canon 10D body, Canon 15mm f2.8 fullframe fisheye lens, cable release, Manfrotto tripod and rotator. Manual focus & exposure 1/125 sec @ f13, 100ASA. Stitched with PTGUI 5.7.1 & Panorama Tools. QTVR created with Panocube Pro, all under Windows XP SP2. The shot is assembeled from 3 rows of 8 images plus nadir & zenith shots. Next time to avoid straight line distortions I might use 3 rows of 10 for a more gentle transition between images.