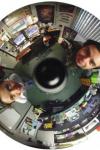 Felipe González y Aura Castro
Recorridos Virtuales
Ciudad de México, México
contacto@recorridosvirtuales.com
---
Felipe and Aura first met 26 years ago, while attending highschool al Prepa 6. It didn´t took long before they became a couple. They grew up and both studied design (Aura is a Graphic Designer and Felipe is an Industrial Designer).
After 10 years they finally married and now they share a small design studio and three cats.
They both enjoy doing panos.