Fantasmas del 5 de Mayo
Centro Histórico, México, Distrito Federal, México
September 26, 2010, 11:08 am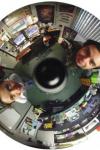 Loading panorama viewer ...
© 2010 Felipe González y Aura Castro, All Rights Reserved.
Equipment
This pano was shot with a Canon 350D (Rebel Xt), using a Peleng 8mm lens. The camera was placed 10 feet off of the ground using a homemade panopole and lens ring. The "ghost" segment of the pano was scanned from the book "
México en el Centenario de su Independencia
" and was shot circa 1910 by photographer Eugenio Espino Barros.
Stitching of the pano was done using PTGui and retouched in Photoshop CS3.