Lin's Mill Aqueduct
near Ratho, West Lothian, Scotland, UK
September 18, 2010, 13:36 local, 12:36 U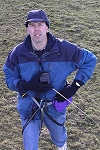 Loading panorama viewer ...
© 2010 James Gentles, All Rights Reserved.
Equipment
Nikon 8400 with FC-E9 Lens. Homemade camera cradle/rig, triggered by a
gentLED
intervalometer. Suspended below a Dan Leigh Cruiser R8 kite with an 8ft/2.5m span.
This technique produces two hemispheres, and a different workflow in PTGui from the classic ground pano technique. This results in lower resolution BUT impossible angles!
See
the rig
, how Kite Aerial Photography
is achieved
, and
the workflow
.
Behind the scene : how this panorama was made
This panorama was taken using Kite Aerial Photography (KAP). Whilst more "hassle" to shoot, I hope you agree that the effect can be stunning. I have shot rectalinear at this location several times, and it offers an interesting subject for KAP. As you look at the Aqueduct the field over your left shoulder offers an ideal launch site for the kite.
Once high in the sky the kite becomes stable enough to attach the camera that weighs 1.4Kg (3lbs). Always a nervous time as the fisheye lens has no protection should it touch the ground.
Letting out more line and the kite and camera climb higher, and I walked from the field actually onto the Aqueduct (You can just see me in shot). The camera automatically took around 120 images, every few seconds, rather than me as operator "taking" the picture. After the shoot the best image is chosen for the "down" hemisphere. A "stock" sky was added using the
non standard workflow
KAP employs.
Hopefully you like the results!