Palacio de Bellas Artes
Distrito Federal, México
30 de enero del 2006, 18:15 GMT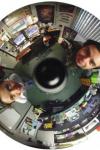 Loading panorama viewer ...
Configuring ...
© 2006 Felipe González y Aura Castro, All Rights Reserved.
Equipment
This is the last Pano we made with our faithful Sony DSC s85 4 megapixels camera and a Raynox .65 converter. It was a multirow shot, using a Vanta Tripod and a home-made pano head. Stitched using PTGUI and slightly corrected with Photoshop CS.