"Man at the Crossroads Looking with Hope and High Vision to the Choosing of a New and Better Future"
Distrito Federal, México
September 22, 2005 14:40 hrs GMT -6:00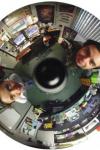 Loading panorama viewer ...
Configuring ...
© 2005 Felipe González y Aura Castro, All Rights Reserved.
Equipment
This pano was shot with a Sony Cybershot DSC 85, with a Raynox fisheye converter and a level bubble. It was shot handheld using my knee for support.
"El Hombre Contralor del Universo"
Este Mural se encuentra en el Palacio de Bellas Artes en la Alameda Central de la Ciudad de México. El centro de la composición retrata a un obrero utilizando una máquina, como símbolo del dominio de la tecnología. Al centro, una mano sostiene una esfera que simboliza la energía del átomo controlada.
Esta pintura debería estar en el vestíbulo del edificio de la RCA en la Plaza Rockefeller, en la Ciudad de Nueva York. Desafortunadamente, el mural original fue destruido debido a que representaba la posición política de Diego Rivera, miembro y presidente del partido comunista mexicano. El mural fue elaborado nuevamente a solicitude del gobierno mexicano para conmemorar la inaguración del Palacio de Bellas Artes.