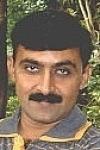 Harshal Purohit
Safalya, Centre for IELTS
+91 94275 46777 - Mahesana, Gujarat, INDIA
harshal@safalya.4t.com
---
I am an IELTS Tutor, but it has nothing to do with literacy or my profession!
I am an artist by birth, wasted as a science student, could complete graduation with hell lots of efforts, spoiled as an Area Manager in Pharmaceutical sales... and finally I am as, mentioned above!
I have wide (may be wild!) variety of hobbies, especially expeditions of all kind. I am crazy of digital photography (yet amature) and electronic advancement. Recently I am studying Seismology and Meteorology as useless hobby. I am a nature-lover and a star-gazer too.
I love Indian classical and instrumental music. Even I can play the flute, mouth-organ and keyboards to let neighbour teach the lesson!
Besides, I am your good friend as well!