Shale Oil Waste Bing
Philpstoun, West Lothian, Scotland, UK
June 20, 2010, 15:28 U (16:28 local)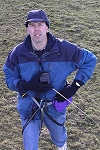 Loading panorama viewer ...
Configuring ...
© 2010 James Gentles, All Rights Reserved.
Equipment
Nikon 8400 with FC-E9 Lens. Homemade camera cradle/rig, triggered by a
gentLED
intervalometer. Suspended below a DoPeRo kite 6ft/2m by 10ft/3m in size.
This technique produces two hemispheres, and a different workflow in PTGui from the classic ground pano technique. This results in lower resolution BUT impossible angles!
See
the rig
, how Kite Aerial Photography
is achieved
, and
the workflow
.
Behind the scene : how this panorama was made
The challenge with WWP is getting the right wind and the right light within the shooting window so I can demonstrate teh capabilities of Kite Aerial Photography. I had identified the disused shale bing a few weeks before the shoot, and realised it was more interesting inside that I expected.
The first trip to shoot had lots of bikes but not enough wind, second trip had neither wind nor bikes, so I took some ground panoramas as "backup". Later that same day the wind was stronger so third time lucky and my biggest kite (for lightest winds) saw us with the kite pulling well.
Once flying I attached the camera that weighs 1.4Kg (3lbs) to the line below the kite then let out more line to raise it into the air. Always a nervous time as the fisheye lens points straight down and has no protection should it touch the ground.
The camera automatically took around 150 images, hopefully you like the results!