Where the Trees Meet the Sea...
Limekilns Village, Kingdom of Fife, Scotland, UK
July 31st 2012, 14:50local (13:50U)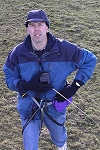 Loading panorama viewer ...
Configuring ...
© 2012 James Gentles, All Rights Reserved.
Equipment
4 GoPro HERO2 cameras, with a prototype camera cradle/rig, triggered by 4
gentWIRE
camera syncronisers. Suspended below a Dan Leigh Cruiser kite with 8ft/2.5m span.
This technique produces two hemispheres, and a different workflow in PTGui from the classic ground pano technique. This results in extra effort BUT impossible angles!
See
the rig
, how Kite Aerial Photography
is achieved
, and
the workflow
.