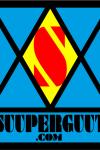 Samuel David Sinclair
http://suuperguut.com
---
Born in 1979 in Hamburg, artist lives and works since 1996 in Vienna.
After training as a photographer at the Graphic Arts Research Institute in Vienna, he specialized in the facsimiles of artworks, for famous museums and artists, such as the Albertina, the Dürer rabbit.
In 2005, he is responsible for the technical implementation, of the first large format 3D print in Europe, issued for Manner, on the Stephansplatz, in Vienna. That same year, he produced one of the highest resolution photos worldwide. 120 images are seamlessly joined together in an impressive mountain panorama. The image has 450 million pixels and has been issued for Canon, at the Gemundener Photodays 2007th.
After this experiments, to show the reality as sharply as possible and in three dimensional. Since 2008, he follows the attempt to tell stories through careful observation of the environment. Where the stories should be created freely, in the mind of the viewer. Therefore, the artist wants, that we see the world through children's eyes, so that their diversity makes us speechless wonder.