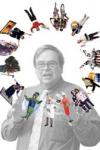 Robert M. Lightfoot III
Des Plaines, IL USA
rmlcd@comcast.net
---
Panoramas are only practical as digital images--and what a great new tool.
I can whisk you from your computer into the middle of any environment, where you are free to study the details, go through the doors and have a wonderful experience!
Being active at the end of the film era and the beginning of the digital era is exciting, in part because we have so many terrific new ways to tell the story.