Sculptor Richard Hunt at Work in his Chicago Studio
Chicago, Illinois, USA
I had planned to take this for "Borders" but Richard's schedule required a later date.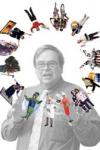 Loading panorama viewer ...
© 2006 Robert M. Lightfoot III, All Rights Reserved.
Equipment
Basic Brownie and one or two small bits of experience.
Behind the scene : how this panorama was made
Nothing fancy here. I double shot the images to cover the dynamic range involved, then processed to retain detail throughout. Total number of images used was 90, or 45x2.
As noted, I left the yellow of the heat lamps in the picture because it just felt right.
I also left Richard alone, because it was clear he was under deadline pressure. I liked the idea that he was working, not posing, in part because he is a modest person and it seemed to fit him well.