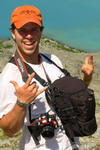 John J Housser
Housser.ca
Vancouver / Squamish / Whistler, BC
john@housser.ca
---
Inspired by my travels and work in the mountains of BC, I discovered VR photography as an incredible tool to capture and share my experiences and adventures.
Picking up the basics of photography from my parents throughout my childhood, and having a strong interest in computers and technology, I found myself well primed to start capturing and producing immersive panoramic photos. Very quickly I realized this was the most powerful way of sharing the reasons we go to the places we go to and do the things we do.
I currently live in BC on the west ("best") coast of Canada, but seek out opportunities to explore adventures anywhere around the world.
Enjoy your journey on this site, and our adventures through our photographs.
John