International Beer Festival - North America
Wolfville, Nova Scotia, Canada
March 16, 2006 - 20:00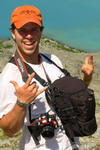 Loading panorama viewer ...
© 2006 John J Housser, All Rights Reserved.
Equipment
Equipment: Canon 20D, Peleng 8mm, keychain, paper
Software: PanoTools, PTGui, EnBlend, PhotoShop, Pano2QTVR
Environmental:
The Axe Lounge
, the Thirsty Student, Acadia University.
Behind the scene : how this panorama was made
This is a first for me - my first handheld panorama. I held the camera by hand, with a key hanging off the lens, and used a paper to guide the direction of my 6 shots around, as well as a bubble level to confirm my position.