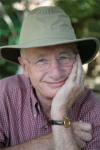 Colin Mackenzie
Mackenzies Chocolates
Santa Cruz, California, USA
colin116@mac.com
---
I am a retired family physician who had a life time interest in photography, starting with a darkroom in a bath room 45 years ago to the present with full adoption of the digital scene.
I have been taking panoramas for a number of years but this is the first time I have ventured into this public mode. I enjoy reading the coments on the list and have learned a lot from others in this field.
I still have a good darkroom but with one last fling this winter it will probably be retired next year.
My wife started a chocolate manufacturing business when our three children left home and our son manages the business and we both provide some guidance. Quite naturally I have always been interested in photographing chocolates.
Examples can been seen on the chocolate website: mackenzieschocolates.com Equipment: Currently a Canon 5D with a Canon 15mm fisheye. I also have a Kodak pro/slrn full frame.