A School of "Panoramaists"
Hillside Club Dinner, Berkeley, California, USA
2000 hrs 19 June 2007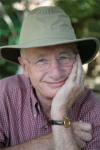 Loading panorama viewer ...
© 2007 Colin Mackenzie, All Rights Reserved.
Equipment
Canon 5D with 24 - 105mm zoom lens set at 24mm. Three rows of 8 shoots (24 total) stitched into a cylinder Panorama using PTGui. No zenith or nadir shots.

The shooting was completely automatic using a "Corybant West electric nodal mount"