Upper Killea
County Derry, UK, on the border with County Donegal, Republic of Ireland
September 26, 2010, 16:15 BST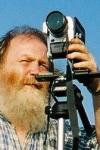 Loading panorama viewer ...
Configuring ...
© 2010 George Row, All Rights Reserved.
Equipment
Shot with a Canon EOS 5D, Zenitar 16mm fisheye f/2.8 lens. The camera was mounted on a Kaiden Kiwi panorama adapter on a Manfrotto 190XDB tripod.
Horizontal photographs were taken at 60° angles and also a ground and sky shot. Each "shot" consisted of five bracketed exposures (With shutter speeds from 1/30 to 1/8000). Extra shots were taken of the tractor as it drove through the shot as the tripod was being set up.
A total of 48 separate images were combined using Hugin in order to achieve this High Dynamic Range type result and in particular to cope with the full Sun.