Abbaye du Thoronet
Le Thoronet, France
September 22, 2007 - 16:45 (18:45 local time)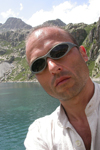 Loading panorama viewer ...
Configuring ...
© 2007 Christian Braut, All Rights Reserved.
Equipment
Taken with a Nikon D70 + Nikkor DX AF Fisheye 10.5 mm Mounted on a 360Precision adjuste Head. One row of six shots + zenith/nadir. Optimized with DxO Optics and Photoshop, stitched with Realviz/XBlend/Enblend and CubicConverter.