Great Catherinians
Monument to Catherine II, Saint-Petersburg, Russia
September 20, 2007 - 13:17 UTC (17:17 local time)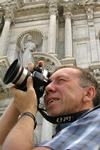 Loading panorama viewer ...
Configuring ...
© 2007 Andrew Varlamov, All Rights Reserved.
Caption in Russian - Выдающиеся деятели эпохи Екатерины II
Кто они, эти люди, носящие парики и орденские ленты ?
Отцы-основатели
или последние вельможи Франции ? Почему бы и нет, но славянские фамилии, отлитые у основания памятника, говорят об их причастности к русской истории.
Некоторые из них принимали участие в дворцовом перевороте 1762 года, который возвел немецкую принцессу Софию Фредерику Августу Ангальт-Цербсткую, известную сегодня как
Екатерина II Великая
на трон :
княгиня Екатерина Романовна Воронцова-Дашкова
(ее крестным отцом был муж Екатерины, князь
Петр Федорович
, а крестной матерью -
императрица Елизавета Петровна
),
граф Алексей Григорьевич Орлов
(один из пяти братьев Орловых, он был свидетелем убийства Петра Федоровича в Ропше),
Иван Иванович Бецкой
(опытный заговорщик, участвовал в возведении на русский престол Елизаветы Петровны),
Григорий Александрович Потемкин
(после дворцового переворота был сделан камер-юнкером, а 12 лет спустя стал фаворитом царицы).
Во времена царствования Екатерины II границы Российской Империи раздвинулись на юг и на запад, а территория империи увеличилась на 518 000 квадратных километров. Великие русские полководцы сидят перед бронзовой царицей :
Петр Александрович Румянцев-Задунайский
(получивший наименование Задунайского вместе с званием фельдмаршала в 1774), Григорий Александрович Потемкин (с 1784 года являвшийся Главнокомандующим русской армии) и
Александр Васильевич Суворов
(его внук
Александр Аркадьевич Суворов
, будучи санкт-петербургским военным генерал-губернатором, ходатайствовал в мае 1863 года о сооружении в Петербурге памятника Екатерине II). Лучшие слова о Суворове сказаны в оде "
Снигирь
", написанной
Гавриилом Романовичем Державиным
:
...

Кто перед ратью будет, пылая,
Ездить на кляче, есть сухари;
В стуже и в зное меч закаляя,
Спать на соломе, бдеть до зари;
Тысячи воинств, стен и затворов
С горстью россиян все побеждать?

Быть везде первым в мужестве строгом;
Шутками зависть, злобу штыком,
Рок низлагать молитвой и богом,
Скиптры давая, зваться рабом;
Доблестей быв страдалец единых,
Жить для царей, себя изнурять?

...
Морские победы России представлены фигурами
Василия Яковлевича Чичагова
(
полярного исследователя
, Главнокомандующего Балтийского флота с 1789 года) и Алексея Григорьевича Орлова (получившего почетное наименование Чесменского в 1774 году).
Полезные ссылки:
Александр Андреевич Безбородко
Письмо А.Г. Орлова Екатерине II об убийстве Петра III. Ропша. 6 июля 1762.
Любовные письма Екатерины II Г.А.Потемкину
Избранные письма Екатерины II Г.А.Потемкину
Прошение статс-секретаря и поэта Г.Р.Державина Екатерине II о пожаловании чина. 1782 г., не позднее июня 18
Мэлор Стуруа, статья "
Даешь Потемкина!.. Но какого?
" в "Известиях" 12 сентября 2005 года
Н.Я. Чуксин, статья "
Екатерина Великая: памятник в Краснодаре
", 2007.
Behind the scene : how this panorama was made
Let me begin from EXIF citations : White Balance = Cloudy, Quality Level = RAW, Sensitivity = ISO 200, Aperture = F/8.0, Manual Focus
Pentax Fish-Eye 10-17mm
: Focal length = 13 mm, Shutter speed = 1/20-1/45 sec for overexposured shots (-1EV), 1/90-1/125 sec for underexposured shots (+1EV)
Tokina AT X-Pro 28-70mm
: Focal length = 65 mm, Shutter speed = 1/8-1/15 sec
I had got only 3 days to shot panorama for this event (because my weekend was devoted to my family affairs). September 19 was rainy day. September 20 was opened by sunny morning, but after noon sun begun to cover by more and more dense clouds. At 17:00 light became soft and uniform, but rain was ready to start.
As You see monument to Catherine II is circled by low stones connected by chains. There are 25 stones, and shooting points were chosen in front every second stone. When I finisned 1st circle around monument I thought that 13 is not suitable shots number and performed additional rear shot. Then Pentax Fish-Eye lense was replaced by Tokina Zoom Lens and I went 2nd circle. 42 shots were made during 25 minutes.
Shots processing was divided into:
merging of dark sky with overexposed shots (for general view)

shot rotation (maximum angle deviations were -1.9 and 1.1 degrees)

shot scaling (maximum scale was 116.8 %)

brightness/contrast adjusting

As result shots of size 3008x2000 pixels were transformed into shots of size 2960x1800 (loss of width = 1,5 %, loss of height = 10 %).
To satisfy WWP requirements for files sizes the next parameters were chosen for QTVR object consisted of 2 rows by 14 frames:
standard version
: frame size = 526x320 pixels, quality = 55%
full-screen version
: frame size = 1110x675 pixels, quality =55%