"Nuclear Energy" • Sculpture by Henry Moore.
Site of the first controlled nuclear chain reaction, University of Chicago, Chicago, Illinois, USA
September 21, 2005 • 12:45 CDT (17:45 UTC)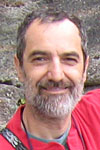 Loading panorama viewer ...
Equipment
This panorama was composed from a total of 28 images, taken with a Minolta A2 camera equipped with a Minolta ACW-100 20mm wide-angle lens, and mounted on a Nodal-Ninja SPH-1 spherical bracket. The images were stitched using PanoTools and PTGui (version 5), postprocessed with Photoshop CS, and compiled into MOV format using Pano2QTVR.