Lawrence Berkeley National Laboratory
Berkeley, California, USA
September 25, 2005 4 pm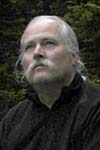 Loading panorama viewer ...
Configuring ...
© 2005 G. Donald Bain, All Rights Reserved.
Equipment
Photographed with an Olympus E-1, 14-54mm lens at 14mm (28mm film equivalent), mounted on a Kaidan QuickPan III, Acratech Ultimate Ballhead, and Velbon tripod. Stitched with Apple QuickTime VR Authoring Studio, edited with Adobe Photoshop CS, on a Macintosh G5.