Tesla Coil
Technical Museum of Slovenia, Bistra, Slovenia
15:10 CEST / 22nd September 2005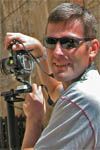 Loading panorama viewer ...
Configuring ...
© 2005 Boštjan Burger, All Rights Reserved.
Equipment
Nikon, Manfrotto QTVR head, (long exposition)
Slovenski opis
Wedno sem občudoval
Nikolo Teslo
(1856-1943) - bil je človek, ki je ukrotil elektriko. Njegovo ime je uporabljeno kot enota za gototo magnetnega polja. Bil je skrivnostna oseba in celo danes je veliko njegovih ugotovitev in odkritij težko razumeti. Odkril je večfazni sistem, raziskoval visokofrekvenčne tokove in imel je prve zamisli o svetovnem radijskem sistemu in
brezžičnem prenosu energije
. Dejstvo je, da večina Teslovih iznajdb izvira iz obdobja pred njegovim 45 letom, pozneje se je o njegovem delu slišalo zelo malo. Govorice so, da je v resnici prišel do nekaj osupljivih odkritij, ki so bila preveč neverjetna ali pa preveč pomembna, da bi javnost izvedela zanje. Po njegovi smrti naj bi te iznajdbe končale v trezorjih vlade ZDA... Prostorska slika prikazuje Teslov transformator, ki je del razstave o Življenju in delu Nikole Tesle v Tehničnem muzeju Slovenije.
Behind the scene : how this panorama was made
I shot the pano at 2 million Volts this time ... O.K. only 2 m away. Just enough that my camera suffered some 'death pixels', but I had already knew that I could damage the camera. Influence of the electromagnetic field of the Tesla coil to the camera was actually even smaller than I expected. I used the Manfrotto tripod and while the Tesla coil was operating, the tripod was charged - that was what I didn't expect and the first shot was a bit dramatic... and funny to the operator who was few meters behind me. However, I found and interesting fact: I loaded the Lion battery fully before I went from home but after only 10 shots nearby the coil, it was almost discharged. He... kind of experiment... and noisy one.