Monument to Nobel Peace Prize winner Dr. Andrei Sakharov
Vasilievskiy Island, Saint Petersburg, Russian Federation
September 23, 2005 UTC 12:00 (local time 18:00)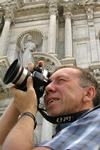 Loading panorama viewer ...
© 2005 Andrew Varlamov, All Rights Reserved.
Equipment
Hardware
: Pentax Optio 450, Falcon Eyes tripod, self-made panohead
Software
: Realviz Stitcher 4.0, Adobe PhotoShop 7.0, Pano2QTVR
Behind the scene : how this panorama was made
September 23, 2005 was Friday. It was hard day, because my time for shoting was bounded by end of working day and start of family holiday (it was 23th aniversary of our wedding).
Place for shoting was very familiar for me, because in childhood i lived not far from here. My father teached me to ride bycicle in 1972 at boulevard between Library of Academy of Sciences and State Optical Intstitute. In 1978-1981 one day per week i learned at building of Faculty of History, because Faculty of Military study was located here. In 1982-1985 I worked at Mendeleevskaya linia and every day crossed the square.
The panorama is stitched from 3 raws of shots, each raw contains approximately 14 shots. Shutter time is -1 stop for bottom row and +1 stop for top row relatively center row (for center raw : ISO 200, F-stop 7.9, exposure time = 1/60 sec, WB=shadows).
Realviz Stitcher 4.0.2 helped me to join these shots into spherical panorama, which was corrected and adjusted by means
Pano2QTVR
program (version 0.9.0) (author - Thomas Rauscher). I have got 2 days to understand how to add hotspots and to create movie, but GUI of the program was very friendly (for me :).
Next event (best pano of 2005) I am going to use Pentax film camera and ZENITAR fisheye lens.