Untapped Child Labour
Lake Ginninderra, Canberra, Australia
3:15 PM - 24 September 2005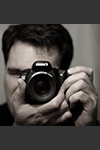 Loading panorama viewer ...
Configuring ...
© 2005 Andrew Novinc, All Rights Reserved.
Equipment
Canon EOS 20D digital camera. Sigma 8mm fisheye lens. Kaidan QuickPan Panorama head. Multiple images touched up and combined with Photoshop prior to stitching. Stitching done with Panorama Tools, PTGUI, and Enblend. QuickTime generated with PanoCube.