4-daytime-panorama
Bremen, Germany
start June 20, 2009 at 09:00, June 21, 2009 at 00:00, 06:15, 12:00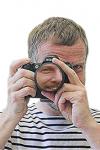 Loading panorama viewer ...
Configuring ...
© 2009 Florian Bertzbach, All Rights Reserved.
Behind the scene : how this panorama was made
I marked the place for the tripod to refind the place. At the four times I exactly replaced the tripod and made my panorama.
After finishing the four panoramas I edited in CS 4.
You will find the four panos
here