Baseline Ireland
Magilligan Plane, Lough Foyle seen from Bishop's View, Co Derry, Northern Ireland, UK
20 June 2008 - 15:00 UTC (16:00 BST)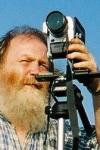 Loading panorama viewer ...
© 2008 George Row, All Rights Reserved.
Equipment
Canon EOS 5D, with a Zenitar-M 16mm Fisheye f/2.8 lens, mounted on a Kaiden Kiwi panorama adapter.
Six sets of bracketed images were shot, plus a set for sky and ground. They were stitched using HugIn (version 0.7) with Enfuse invoked by Hugin to increase the dynamic range. It was rendered as a rotating Cubic-VR using CubicConvertor and CubicConector.