Waterfall Overlook
Feather Falls, near Oroville, California, USA
June 20, 2008 11am PDT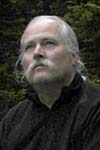 Loading panorama viewer ...
© 2008 G. Donald Bain, All Rights Reserved.
Equipment
Photographed with an Olympus E-3 digital SLR with an 8mm Zuiko fisheye lens, on a Nodal Ninja VR mount, Acratec Ultimate Ballhead, and Velbon carbon-fiber tripod. Stitched with PTGui Pro 7.8 on a Macintosh Intel Core 2 Duo iMac, retouched with Photoshop CS3, converted to QTVR using Cubic Converter.