In the Shade of a False Acacia (Black Locust)
South London, England, UK
12:03pm, June 24 2006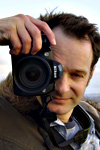 Loading panorama viewer ...
© 2006 Keith Martin, All Rights Reserved.
Equipment
Shot using a Nikon D70 fitted with a Nikkor 10.5mm lens, mounted on a 360 Precision pano head. The lens was stopped down to f22 to get as much depth of field as possible, as objects were as near as two or three inches from the lens.