Little Green Corner
Maplewood, New Jersey, USA
Solstice, 2006-06-21, 7:00 am EDT (12:00 UTC)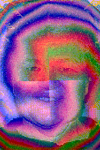 Loading panorama viewer ...
Equipment
Visual: Canon 300D (Digital Rebel) dSLR camera, Nodal Ninja panohead, EF-S 10-22mm lens, RAW, IS0 100, 1/30 sec at f/4.5, focal length 12 mm to capture eight images. Photoshop CS and QuickTime VR Authoring Studio to stitch and process panorama. QuickTime Pro 7.1.1 for copyright and fast start preview tracks. Audio: Canon G2 MiniDV Camcorder to capture ambient sounds. Final Cut Express 2 to edit and save as AIFF. Audacity 1.2.3 to convert to MP3. Macromedia Flash 8 to compress and export as QuickTime movie. Platform: Macintosh computer: Dual 2.7 GHz Power PC G5.
Behind the scene : how this panorama was made
Here are some comments about the choices I made in creating this panorama.
I honor the solstices and equinoxes as celestial events marking our relationship with the earth, sun, moon, galaxy and stars. My goal is to record the panorama at that time. The low morning sun was behind a building, leaving the little green corner dark. Within, I was wrapped in low green light. To keep the experience intact, I did not fill in the glare in the sky and buildings brightly illuminated by the rising sun. I hope your eyes can adapt and see in the shadows.
I used 35% compression, which is the lowest I've ever used. The intimate space, the uneven ground, and my neglligence caused stitching errors at the lower part of every seam. I did not fix them all, rationalizing that the leaves of plants so often look practically identical anyway.
For the poem, in Photoshop, I arranged the ten words like petals at the vertexes of a pentagon. Converting from polar to rectangular fit the letters to the panorama source graphic.
For the audio, I picked the sequence with the most variety: squirrels, busy road traffic, and a chorus of birds from rhythmic to melodious. The time is a few days after the solstice and the place is the same neighborhood.