California Aqueduct
Palmdale, California, USA
Tuesday, June 21, 2005, 8:05 PM PDT (June 22, 2005, 3:05 AM UTC)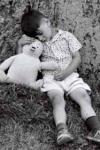 Loading panorama viewer ...
Configuring ...
© 2005 Thomas J Bunce, All Rights Reserved.
Equipment
Canon PowerShot S230, PTMac 3.0 v52, enblend, Photoshop Elements 2.0, MakeCubic, Homemade Panoramic Tripod Head, PowerMac G5 Dual 2.0 GHz.
Lessons learned from my first real panorama
Get there early if you are trying to catch some time critical event. It takes time to climb steep hills, set up the equipment, and level everything. I got lucky with my first round of pictures being pretty much perfect where I thought it might be better after the sun had set.
If the ground is sunlit and looks good, get that set of pictures before the next round in the sky. I missed getting some of the grasses with the really nice red glow by doing a second round of the sunset.
A pano head really saves a lot of time in the stitching process. Make one like I did if you can't afford to buy one. The pictures line up so much better.
At first I thought I took too many pictures at 20 deg separation with my 50 deg camera field of view. Because PTMac doesn't yet do vignette reduction it turns out the extra frames really helped with the blending.
Keep on taking pictures and stitching. It takes a bit of skill to get a really good set of pictures to line up, and blend well, but it gets better each time fairly quickly.
Don't wait too long to get an account and set up your own web space. Things take time...
Photoshop Elements layer mode of Lighten really works well to blend the images together by hand without having to use masks and erasers. Very fast and good results. Save the eraser for the images with movement that you want to get rid of or enhance.
Don't use the crop function in PTMac 3.0 v52 or earlier. It messes up the field of view and angle settings resulting in 80-100 pixel errors. Once I reset all the cropped images, my pixel error went to a maximum of 4, average less than 1 for three to five control points per image pair. 18 rows x 5 columns of images.
When shopping for a digital camera find one that lets you set the shutter and aperature for all the shots. Color blending is so much easier if you don't have to do it yourself. My camera will hold the settings if I don't fully let up on the shutter release button, but it's tricky and I didn't get the same settings for the sky.
This is really a lot of fun! Try it!