The Royal Military Canal
Near Kenardington, Kent, England, UK
Tuesday 21 June 2005, 18:53 BST (17:53 UTC)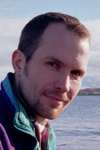 Loading panorama viewer ...
Configuring ...
© 2005 Richard Crowest, All Rights Reserved.
Equipment
Nikon Coolpix 4500 & FC-E8 fisheye lens. 6 shots at F2 setting used for greater detail in the main part of the panorama, plus 3 shots at F1 setting to fill in the top and bottom. Kaidan Kiwi 990 panoramic tripod head.