32nd America's Cup Match, Louis Vuitton Act 4
Valencia, Spain
June 18, 2005. UTC 13:00 (15:00 local time aprox.)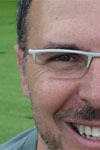 Loading panorama viewer ...
Configuring ...
© 2005 Paco Lorente, All Rights Reserved.
Equipment
HW: Nikon F80 + Sigma 15mm fisheye SW: PTGui/PanoTools, Photoshop, PanoCube
Behind the scene : how this panorama was made
This was not easy for me. First at all, I have not my own yacht (I suppose as most of us). Then my family and me take a passenger boat to see the race.
Weather and wind were fine, no clouds but sea mist made photos not so much clean.
I have made the pano with four shots, obviously without tripod and calculating the same level of the sea between shots, pitching not stops for me.
When boats were arriving all people came to see them to the same side. Enclosed by people I shot the main boats shot, but they do not leave space to shot the others. Then, I wait patiently people leaves, keeping and defending my place, and shooting then the others.
In spite of the difficulties we enjoy this day.
32 edición Copa América. Copa Louis Vuitton, Act 4 [spanish]
Estamos en
Valencia
, el los actos de junio 4 y 5 de la
Louis Vuitton Cup
. Estas son una serie de regatas que preceden el evento principal del 2007, la
32 edición de la Copa América
, que también se celebrará en Valencia.
En este panorama, el viento entre 10 y 12 nudos ayuda al
ALINGHI
-el Defender- a ganar al equipo
BMW-ORACLE
en una "match race" del acto 4. Una "match race" es una carrera en la que únicamente participan dos barcos cara a cara.
En el acto 5, que se celebró la semana siguiente las regatas fueron del tipo "fleet races", en el que todos los barcos compiten unos contra otros al mismo tiempo.
Pero aunque lo que se ha visto durante este evento puede ser indicativo de lo que puede venir, no es concluyente, queda mucho camino por recorrer hasta el 2007.
Las regatas de junio de este año son las primeras donde se ha podido ver a todos los competidores que participarán en el 2007. Son 12 equipos que constituyen la edición mas diversa en la que están representados 10 paises diferentes.
La Copa América se dice es el trofeo más antiguo en deporte, y ha llegado ha ser una obsesión para algunos de los más famosos, poderosos y excéntricos personajes del mundo. El evento trasciende el puro deporte, es una historia de aventura, ambición, innovación, creatividad, dinero, fama y competición.
Valencia (España).
---
El equipo suizo
ALINGHI
consiguió la Copa en el 2003, trayendo el trofeo a Europa por primera vez.
El 26 de noviembre de 2003, los organizadores de la copa anunciaron que esta ciudad española de la costa mediterránea sería la sede de la 32 edición de la Copa América.
A comienzos del verano en esta parte del mundo se producen las mejores condiciones para navegar: brisas estables y fiables, que son en definitiva el ingrediente más importante para crear espectáculo.
En estos momentos solo unas pocas bases de los equipos han sido finalizadas en el puerto, el resto en construcción está previsto que finalicen este verano.
Cerca de 50 contenedores son necesarios para mover el equipo necesario por los equipos y los organizadores.
Cada equipo durante las regatas requiere un mínimo de 40 personas, y los equipos más grandes llegan a 70.
Se puede visualizar un panorama adicional a pantalla completa del puerto de Valencia y las bases en construcción. Los barcos Luna Rossa, BMW-Oracle y +39 challenge aparecen en la imagen sobre sus estructuras.
Port America's Cup
La Copa América.
---
Su historia comienza hace mucho tiempo, en 1851 cuando el yate 'America' venció a los de la flota británica. Fué entonces cuando nació la Copa América, cuyo nombre procede del barco, no del país.
Se necesitaron 132 años para que la copa saliera de los Estados Unidos, y desde entonces únicamente se ha disputado en tres ciudades: Perth, San Diego y Auckland.
El club ganador, pasa a ser el defensor (Defender), y debe competir para defender el trofeo contra el resto de clubs que lo desafían.
Louis Vuitton has sido un importante colaborador en la Copa América durante 20 años, y da soporte a las series de selección del desafiador, lo que se conoce como Copa Louis Vuitton.
Para una información más completa del evento consultar la página oficial
http://www.americascup.com