Seafood Capital of the World
Calabash, North Carolina, USA
Tuesday, June 21, 2005 1:15pm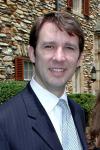 Loading panorama viewer ...
© 2005 Hoyle Koontz, All Rights Reserved.
Equipment
Nikon D70, Sigma 8mm, 4 shots at 1/1000 @ f/8, Manfrotto 303SPH Head, Adobe Photoshop CS2, IPIX Interactive Studio, QuickTime Pro 6.5.2
Behind the scene : how this panorama was made
While on a shoot for another client, I had the opportunity to visit Calabash, NC. It was a place I'd heard of frequently on visits to the NC & SC Coast, but I'd never actually been there. I thought it might make for a good place to find a pano subject for this WWP theme.
After finding the docks where most of the shrimp trawlers were docked, I asked a lady selling tickets for a local recreational fishing rig, called the Navigator, if I could shoot a few pictures from their boat deck. She said, "help yourself." Due to limited time, I had to shoot quickly and run.
While I would've liked a bit more action in the scene, it gives the viewer an idea of what this small town is all about. . . fish and shrimp, which ties in with the WWP them of "water" quite nicely.
-Hoyle