The Mouth of the Carmel River
Carmel-by-the-Sea, California, USA
June 17, 2005 - 18:17 PDT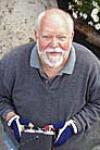 Loading panorama viewer ...
Equipment
Nikon 8700 with FC-E9 fisheye adaptor, mounted on Brooxes Flying Fisheye Platform, suspended from KAPilot 50 kite; Radio-controlled shutter through gentLED serial trigger. Image processed with PTMac 3.0, Photoshop CS with Noise Ninja plug-in, Pangea PanoPreviewer, and ClickHere Design's CubicConverter.
Other Solstice/Water Panoramas
My original intention was to submit an aerial view of the Edmund G. Brown California Aqueduct, which carries water from the Sacramento/San Joaquin Delta nearly 450 miles (724 km) south to quench the thirst of the Los Angeles basin. Alas, no wind on the day I tried – but I did get a presentable panorama on the ground, which you may see
here.
The Monterey Bay Aquarium is one of the world's finest, and I also shot a solstice panorama of their centerpiece exhibit, the 10-meter high
Kelp Forest.