10 Years of Kite Aerial Panoramas
Outside the Workshop, Edinburgh, Scotland, UK
20th March 2014, 14:30 U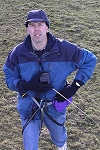 Loading panorama viewer ...
Configuring ...
© 2014 James Gentles, All Rights Reserved.
Equipment
The camera that took this picture, as opposed to the cameras in the picture, was a Nikon D60. With a little help from a Sigma 10-20mm lens, Nodal Ninja 3 mount, PTGui warping, and PSP finishing.