Shoppers: Ten Years On
Shipquay Street, Derry, Northern Ireland, UK
23 March 2014 16:00 GMT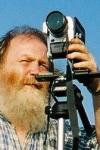 Loading panorama viewer ...
Configuring ...
© 2014 George Row, All Rights Reserved.
Equipment
The source images were taken with a Canon EOS 5D Mk II, Canon EF 15mm f/2.8 Fisheye lens.
The camera was mounted on a Kaiden Kiwi panorama adapter on a Manfrotto 190XDB tripod.
Horizontal photographs were taken at 60° angles and also two ground shots and a sky shot. Each "shot" consisted of three bracketed exposures from +2 to -2 stops.
A total of 36 separate images were combined using Hugin (which in turn invokes Nona, Enfuse and Enblend) in order to achieve this High Dynamic Range type result and to accommodate the moving people.
Behind the scene : how the technology has changed
Hopefully the vast improvement in the result is obvious. Here are some of the technological changes behind the scenes.
2004 version:
Camera
Lens: 28mm equivalent (actually a 7mm(?) lens on a tiny sensor)
Software
Initial processing: Apple iPhoto
Post Production: Photoshop 6.0
Result
Panorama Image size: 720 × 400 pixel,
Available view: 360°x65° Cylinder
Photometrics: Low Dynamic Range
2014 version:
Camera
Lens: Canon 15mm Full Frame Fisheye
Body: Canon EOS 5D Mark II
Software
Initial processing: Apple Aperture
Post Production: Apple Aperture
Result
Panorama Image size: 8,000x4,000 pixel,
Available view: 360°x180° Spherical
Photometrics: High Dynamic Range Panorama
One of the biggest differences in my workflow is that in 2004 after stitching in VR Worx a
LOT
of work was needed in Photoshop to smooth the stitching errors and re-patch in the images of the moving people. This is obvious if you look at the hair of the woman who walks past close to the camera.
In the 2014 version moving people were dealt with by using masking within Hugin. When people overlap across a seam it allows for them to be masked out or selected as appropriate. The post-production in Aperture was simply to tweak the colour and brightness in a few places.