In a Quiet Redwood Grove
Avenue of the Giants between Stafford and Pepperwood, Humboldt Redwoods State Park, California, USA
July 15, 2011 1 pm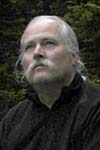 Loading panorama viewer ...
© 2012 G. Donald Bain, All Rights Reserved.
Equipment
Photographed with a Canon 5D Mark II digital SLR with a 15mm Canon fisheye lens, on a Nodal Ninja Ultimate R-1 mount, and Fanotec Series One Pole. Stitched with PTGui Pro 9 on a Macintosh Intel Core 2 Duo iMac, retouched with Photoshop CS3.