Serene Forest on a Sunny Day
In a forest near Hauset, Belgium
August 20, 2011, about 16:15 h local time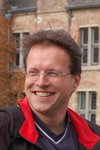 Loading panorama viewer ...
Equipment
Hardware:
Panasonic DMC-LX3, adapter LA4, wide-angle lens LW46.
Shooting:
Handheld, 16 bracketed shots (0/-2.3EV/+2.3EV), F2.0, ISO 200, 1/400s, aspect 16:9.
8 portrait horizontal, 4 up alternating landscape/portait, 2 down landscape, 1 where my shadow was and 1 of the nadir without the CD that I use as a marker.
Software:
Hugin, Enfuse, Enblend, GIMP, PTEditor.