Palace of Arts Budapest
Budapest, Hungary
December 22, 2007 - 06:08 UTC (07:08 local time)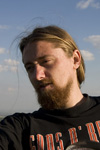 Loading panorama viewer ...
© 2007 Viktor Balogh, All Rights Reserved.
Equipment
Canon 300D, Tokina 12-24@12mm, Manfrotto 055CLB tripod with 303SPH spherical head,
+ Buffalo coat, scarf, a shirt, 2 pullovers (one with a hood), but without hat and gloves :)
Behind the scene : how this panorama was made
The idea of that panorama came to me about two months ago. I work at the other side of the bridge, at a newly built IT center, and walk every morning and evening across that bridge. At the evening the Palace of Arts looks very shiny and compelling, and I thought that at 7am it will be an amazing location for my wrinkle tribute panorama.
Unfortunately it had no floodlight in the morning, and the wheather was foggy too so the other lights on the other side of the Danube river couldn't be seen too.
Above all it was extremely cold too by that time (at least for wheather it used to locally), and I didn't have any gloves with me. I could hardly managed this panorama, but it worth for it. :)
And another note: Yes, the local time at the moment the first picture was taken was 7:08am which is 06:08 UTC. It was a real challenge to wake up at 4:30am, and to wait about 15 minutes for that minute at that wheather conditions.