Place de l'Eglise, 10 years after ...
Houdan, Yvelines, France
12h00 (gmt+1) december 22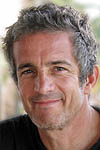 Loading panorama viewer ...
Configuring ...
© 2007 Denis Gliksman, All Rights Reserved.
Equipment
The technical evolution in 10 years is huge.
In 1997 i shot digital with a Nikon-Fuji E2, with a 20-35 mm zoom. Hfov was about 58°. I needed 12 images to make a 360*70° cylindrical panorama. Image were 1280*1000 pixels, jpegs only, weighting an average of 350 ko. All the sources for a pano weighted less than 5 Mo. Cards for the camera where 16-32 Mo ... Considering internet bandwidth at that time building a 200-300 ko panorama was a correct choice.
In 2007 I shot with a Nikon D2X, a 10,5 mm fisheye. Hfov is about 86°. The full spherical 360*180° panorama can be done with only 10 images. The files are 4288*2848 pixels, raw 12 bits. I store raw and jpeg for each view, it weights more than 15 Mo/image ... I shot 3 stops for each image, using in-camera bracketing. I have 3 cards of 4 gigas and 1 of 2 gigas. There are more than 600 Mo of source images for a single pano. I then converted the 45 nef files to tiff with Capture NX to take off the chromatic aberations.
Stitching was done PTgui Pro, (using the HDR option for fun). No control points adjustment was needed, i did a 12000*6000 full spherical panorama, multi-layered psd file, with 3 density of the panorama, plus the HDR tonemapped layer.
Post-production was done in Photoshop CS2. No stiching retouching was needed, just a few ghost removed of moving objects, and some cigarettes (...) cleaned on the ground. I fine-tuned colors with some color layers added.
The nadir logo was done in Photoshop CS2 using Kekus Panotools Plugin for Mac OsX.
The 2 sizes of movies, fullscreen and small version, were done in CubicConverter, from a file using less than a quarter of the resolution of the master . 600 ko, (the double of 10 years ago big version) is actually considered correct for a light version, and more than 2 megs for a fullcreen movie doesn't surprise anybody ...
With this high quality approach, the overall project weights 3,1 gigas, for a single panorama. And it needed 5 different softwares to be completed. Stitching a 740 Mo HDR multilayered (4) .psd took hours, even with the fast computers we have now...
I could have choosen a faster/lighter way, with just 4 images done with a 8 mm fisheye and directly from one density of the jpeg sources. Quality wouldn't have been the same, but it could have been much faster ...