Color Healing with iBar TetraHelix
State of Mind
2007-12-22, 6:08 UTC (12:08 local time)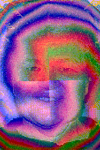 Loading panorama viewer ...
Location
Artistica / Panoramic Paintings
GPS location unavailable (not recorded, no physical location depicted or intentionally suppressed)
Precision is: Suppressed. Will not show on map.
Equipment
I took the world map at
http://www.timeanddate.com.
At the moment of the solstice I generated a color healing at
http://www.wholeo.net.
I worked with images of a tetrahelix that I have been developing from making a model with pipe-cleaners, photographing it, animating the photographs. I used Google SketchUp, Adobe CS3 Photoshop and Flash to work with the images. MakeCubic creates the panoramas.