Where Was I During the Solstice?
La Crescenta, California, USA
December 21, 2007 10:08 PM (+/- 10 min.)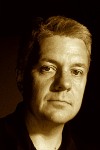 Loading panorama viewer ...
© 2007 Bryant Arnett, All Rights Reserved.
Equipment
Minolta Dimage Z1 (3.2 megapixel camera with a 28mm equivalent wide angle adaptor) sitting on a custom made pano bracket which sits on my generic "Cheapo-Brand" tripod. PTgui 7 (for Mac OSX) used for stitching, Photoshop 6 used for tweaking, CubicConverter used for conversion to QTVR.