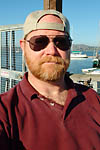 Robert C. Fisher
R C Fisher
Los Angeles, CA United States
bob@rcfisher.com
---
Photographer/Cinematographer Specializing in Interactive Photography, QTVR Panoramas, Product QTVRs. Also Cinematography for Feature Films, Commercials and Industrials.
I recieved my first camera when I was 8 years and have been shooting ever since. I have worked as a photographer at several small papers, shot for a Pro Wrestling Magazine, worked as a TV news cameraman and as aCommercial Director of Photography. I became interested in QTVR when I bought my first digital camera and rotator from a friend whose VR business whent bust in 2001, needless to say I have been hooked ever since. I also work as a lighting technician on feature films in Los Angeles so this also allows me to shoot behind the scenes VR's when I can. I have some of these on my
website
. This is a way to see behind the scenes that most never experience. At the same time I have been working for some commercial clients who include: Conde Nast Publications, Concept Technologies, eImaging Solutions, IQTVRA.