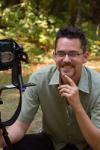 Patrick Cheatham
CheathamLane
Berkeley, CA, USA
---
Patrick is an
Oklahoma
native, though life as an Army brat had him growing up in many different places across the USA and Europe. With Maura he's settled into life in Berkeley, California — where the weather suits his clothes.
When not providing consultation and support to traditional photographers who wish to create interactive imagery, or photographing and scripting dynamic QuickTime content for his own clients, Patrick has been known to take graduate courses in Linguistics, do the crossword and snap the occasional photo just for fun. :-)
Patrick is a member of the American Society of Media Photographers (
ASMP
), and in 2005 was elected by his peers to serve as a director of the International VR Photography Association (
IVRPA
).
In 2004, Patrick had two 2-month shows of large-format 360° panoramic photographs at
Gravity Feed
in Berkeley. In 2003 Patrick's company, CheathamLane, was featured in
360° Imaging: The Photographer's Panoramic Virtual Reality Manual
, by Philip Andrews (UK,
RotoVison Press
, Q2 2003).
Patrick has a BA in English (Film & Media Studies) from George Mason University in Virginia. Studies included 4 years of Spanish language & literature.
Creating and bettering
spinControl:VR
, a custom alternative to the standard QTVR controller, takes up much of Patrick's spare time. And that's OK. :-)