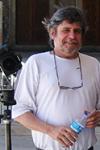 Dudu Tresca
coolview
São Paulo - SP - Brazil
d.tresca@coolview.com.br
---
I have been working and living photography for the last 30 years.
I started photographing theater plays and, from that momment on, I`ve never stopped. Just after my graduation in philosophy, at "Lycée Français" of São Paulo, I worked at "Editora Abril", the largest magazine publisher of South America.
I kept on going with photos for big advertising agencies, corporate projects as well as many works for magazines.
In the early 80's, I started a set of 18 projects for the "Via Cinturato" magazine published by Pireli. All them telling about a sort of "hiden Brazil", reached more through adventure than through roads...
In the early 90's, I started publishing book sponsored by big companies: "Rio Grande do Sul, Impressions" for Panatlantica, "Maracá - Rain Forest" and "Taim - Penbrokeshire" for Lloyds Bank, "Brazilian Routes" for Scania, "São Paulo, body & soul" and "Toys, arts & artists" for locals companies.
When computer came to photography, I rediscovered the photo lab. A virtual lab where I can touch colors, lights and contrasts... my second glance, my second shoot.
Today I continue my works for advertising, and "dive" the web through "immersive images"