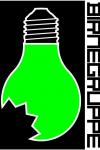 BIRNEGRUPPE
Venice, Italy
birnegruppe@yahoo.com
---
BIRNEGRUPPE is an arts and crafts group.
Our task is research and development, as well as commercial works.
Our skills involve, but are not limited to: architecture, engeneering, product design, graphics, comix and cartoons, music, photography, multimedia, coding, teaching, and developing projects.
BIRNEGRUPPE is:
Chiara Masiero Sgrinzatto
Luca Vascon
Luca Zanazzi
Stefania Zangrando.