Winner's Circle (Royal St John's Regatta)
Quidi Vidi Lake, St. John's, Newfoundland and Labrador, Canada
August 20, 2019 1:33 PM NDT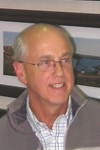 Loading panorama viewer ...
Configuring ...
© 2019 Kenneth A. Butt, All Rights Reserved.
Equipment
Pentax K-5 with 10mm fisheye shot in RAW. Nodal Ninja 3 MkII rotator on a tripod stabilized Fanotec travel pole. 6 shots up (+30deg) and 6 shots down (-30deg) plus 1 offset nadir. Software - PS, PtGui and Pano2VR. 

A "Continuity" Theme
The circles on this park highlight the continuous nature of this 200 year event. An excerpt from the 201st Regatta Program:

"The Park inner circle has eight bricks which represent the first Wednesday of August each year when the Regatta is traditionally held. The next circle represents the oldest organized sporting event in North America which officially started in 1818 with the break in the circle representing the years when no regatta was held, such as the two world wars and the year of the Great Fire of St. John's in 1892. This circle also honours the winners of the championship races for the past two centuries. The outer curves represent ripples created by the rowers' oars and are also done in dark granite and will honour the winners of the championship races for generations to come."