Inauguration of the new Guillemins Railway Station
Liège, Belgium
September 18, 2009, 22:24 (GMT + 1 hour)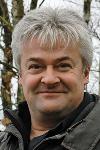 Loading panorama viewer ...
Configuring ...
© 2009 Alain Hamblenne, All Rights Reserved.
Equipment
Taken with a Nikon D300 digital camera equipped with a Nikkor 10.5mm (equiv. 13.5mm) f/2.8G ED AF DX Fisheye mounted on a Giottos MV-8250 monopod. Eight images stitched with Realviz Stitcher Unlimited 5.6.2 software.
Inauguration de la nouvelle gare des Guillemins
La gare des Guillemins, dessinée par l'architecte Santiago Calatrava, est la plus importante de la ville de Liège (Est de la Belgique).
Construit en acier, verre et béton blanc, le bâtiment comprend un dome monumental de 200 mètres de long et 35 mètres de haut.
Liège-Guillemins est l'une des plaques tournantes les plus importantes du pays, située sur le réseau TGV (train à grande vitesse) et utilisée par 36.000 personnes chaque jour.
Elle a été officiellement inaugurée le 18 septembre 2009 par le spectacle "Gare à vous" de Franco Dragone, suivi d'un feu d'artifice grandiose.