Packaged For Transportation
Somewhere in a cargo plane above the Pacific Ocean
2006.09.22 10:55:43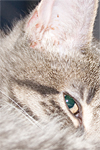 Loading panorama viewer ...
© 2006 Yuval Levy, All Rights Reserved.
Equipment
Canon 350D - Sigma 8mm - 400 ISO F/5.6 30"
Tripod head was replaced by a Kleenex Box (had the right measurments), a pencil and some millimetric measurement marks.
no box has been damaged to produce this VR.